The 2022 Subaru Love Promise Customer and Community Commitment Award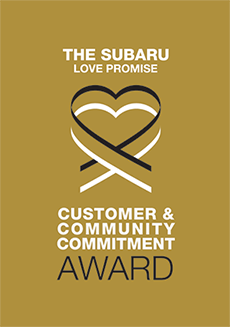 We've been nationally recognized for our dedication to our customers, our community, and the Subaru Love Promise.
We're honored to receive the 2022 Subaru Love Promise Customer and Community Commitment Award. This award nationally recognizes elite Subaru retailers who provide an exceptional customer experience at every interaction with Subaru. These retailers have also demonstrated an outstanding commitment to supporting passions and causes in their local communities in important areas such as the environment, community, health, education, and pets.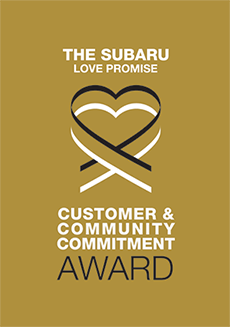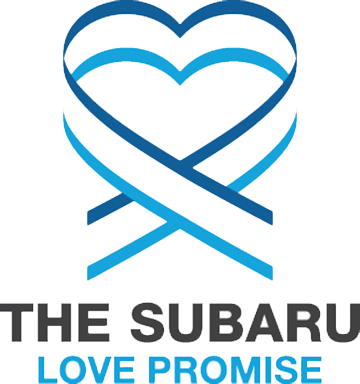 What is the Subaru Love Promise?
Subaru and our retailers believe in making the world a better place and the Subaru Love Promise is our vision of respecting all people. This is our commitment to show love and respect to our customers and to work to make a positive impact in the world.
How is White Bear Subaru dedicated locally to the Love Promise?
Our Love Promise can be seen in various partnerships with local charities and non-profits. We're grateful for the opportunity, not only to be a part of our community, but to serve it as well.
Feed My Starving Children
Leukemia & Lymphoma Society
Love Promise Stories from White Bear Subaru
Subaru and White Bear Subaru believe in making a positive impact on the communities in which we live and work. We uphold that belief through our Love Promise Community Commitment. Every month, we select inspiring stories from customers and partners from around our area who strive to support our collective commitment and feature them here
White Bear Subaru and Adult & Teen Challenge - Will K
Luther White Bear Subaru "Share the Love" Back in 2019 Brad Knutson the General Manager of Luther White Bear Subaru decided to partner with Will Kaul at Adult & Teen Challenge for the Subaru "Share the Love" yearly drive. Little did he know what he had started in our dealership! The first meeting most of our staff was silent about either knowing someone that battles with addiction or possibly dealing with addiction personally. Will came out and started the conversation and our staff started opening up and I believe our staff knows it's ok to ask for help and not be ashamed or embarrassed to ask for help we are all human. Now that our eyes have been open we are continuing to support Adult & Teen Challenge we have met some of the most wonderful people that have completed the program we are forever changed for the better
---
Blanket and Clothing Drive - WILL K
Started with the Subaru blanket drive and finished with a complete clothing drive for the homless.
---
Subaru Loves Pets - Pause 4 Paws - Jill G
With support from White Bear Subaru and the Subaru Loves Pets Program, Pause 4 Paws helped 31 cats be adopted into their forever homes during the month of October! One cat who was adopted in October 2021 was Noodle. Noodle was left behind in a hotel room. Pause 4 Paws was contacted for help because rescues were full and did not have room to take Noodle into their care. A Pause 4 Paws Board Member offered to foster Noodle. He was neutered, microchipped, vaccinated and had a full check-up. Noodle, now named Bogey, was adopted, and he is having a blast playing with his feline brother. Bogey is the orange kitty -- all settled into his loving home! It takes a village to do this work, and we are forever grateful to have Subaru as an important part of the Pause 4 Paws village. From all of us at Pause 4 Paws, thank you to White Bear Subaru for your generous support of helping animals in need of loving homes!
---
Mn Teen Challenge - Brad k
Our friends at Luther White Bear Subaru presented us this week with boxes of new thermal blankets, masks, sanitizers, school supplies and children's books! These gifts will go directly to our clients and their children this Christmas season. Our organization was once again selected to be their featured charity during the dealership's Share the Love Event. We are so grateful for the support... Thank you!
---
Impromptu Patient Reunion + Generous Donation! - Abbey S
July 9, Minneapolis - White Bear Subaru and The Leukemia & Lymphoma Society, MN – ND - SD Chapter spread love, hope and warmth to blood cancer patients and families at Children's Hospitals and Clinics of Minnesota. Customers and employees created Subaru Loves to Care cards throughout all of June by writing funny jokes, inspirational quotes and messages of hope. The cards were delivered with blankets, craft kits, and some extra posters and swag to our LLS Honored Heroes before their clinic appointments.Three year old Lilli was diagnosed with acute myeloid leukemia (AML) in Feb. 2018. She was admitted to Children's Minnesota where she participated in a clinical trial with the potential to greatly reduce the amount of chemotherapy Lilli would undergo. She celebrated her second birthday in the hospital alongside her great nurses and doctors. Lilli was officially declared in remission May 2018. Jake was diagnosed with T-cell lymphoblastic lymphoma at the age of nine, after having already lost his mom to AML years earlier. He is currently in treatment, and taking every step of his cancer journey with a "Warrior Jake" attitude. Lilli Graf is the 2019 LLS Girl of the Year. Jake Rodriguez was the 2017 LLS Boy of the Year. These special kiddos and their moms, Krista and Katie, are also friends. Well, anyone who hangs around a pediatric oncology clinic long enough learns all these moms are friends! While the photographers were capturing shots of Lilli and Jake high-fiving and posing with blankets, the lobby buzzed with nurses and lots of other patients stopping by to chat. In fact, 2020 LLS Students of the Year candidate, Gabi Barreiro and her mom Alba, joined the party and left with a Subaru blanket that morning as well. After delivering blankets to the clinic and hospital, we were told they would all be handed out in a few days. The need is great and our work is urgent. Thanks for spreading love, hope and warmth White Bear Subaru!
---
White Bear Subaru donates $41,653 to LLS Minnesota - Shannon B
This past holiday season, Subaru of America's Share the Love event continued to make a positive impact in the world and our local neighborhoods. White Bear Subaru presented an astounding $41,653 to their Hometown Charity, LLC Minnesota, on April 29 during a celebration in their showroom. From November 2018 to January 3, 2019, $250 of any new Subaru bought or leased was donated to a charity of the customer's choice: one of four nationally chosen charities or White Bear Subaru's hometown charity choice – LLS. Their generosity through Share the Love will help fund the LLS mission to cure blood cancer and improve the quality of life of patients and their families. LLS staff attended the check presentation alongside pediatric leukemia survivor, Lilli, who accepted the donation on behalf of blood cancer patients. Lilli's mom Krista said "We are thrilled White Bear Subaru selected LLS as their hometown charity, & we're honored to accept their donation on behalf of cancer patients like Lilli. LLS is working to save kids lives, and it's not possible without partners like White Bear Subaru. Thanks to Brad Knutson and Brian Anderson for everything!"
---
Great customer service - Ahmed G
Great customer service: During the process of buying the car, I had come to this dealership about three times, once with the family to bring the car for trade-in then to close the deal. Every time I walked in the place I felt so welcome and my family was treated with a lot of respect. Everybody was doing their best to meet my expectations. Eventually, we closed the deal in a very smooth way and I felt very comfortable walking in and out of this place. The follow up was also nice. Not in a pushy way. They really made me happy with every aspect of the deal. Thanks to all who had been involved in the process.
---
#SubaruLovesToCare with LLS + Children's Hospital - Celeste L
On Wednesday, June 20, 2018, as part of the national Subaru Loves to Care program, White Bear Subaru worked with The Leukemia & Lymphoma Society to deliver 80 blankets along with arts and crafts kits and cards of hope to patients at Children's Hospital Minnesota. Brian Anderson and several employees of the White Bear Dealership came to represent Subaru.They lit up the room when they brought in the gifts and were excited with the opportunity to hand them out to patients at the hospital.Lilli Graf, a 2 ½ year old who was diagnosed with acute myeloid leukemia in February, was Children's patient ambassador who accepted the blanket and craft kit from Anderson on behalf of Subaru. Lilli could hardly contain her excitement when she opened the art and craft kit and saw the glitter paint inside. Her smile was contagious and had everyone in the room smiling. Lilli was officially declared in remission when a bone marrow biopsy in May revealed the absence of leukemia cells in her blood and marrow. She will still undergo one more round of aggressive chemotherapy to ensure that the cancer does not return.Lilli's mom says, "We're continually amazed by Lilli's strength, resiliency and sheer determination to fight this battle. Lilli's family was so grateful for the gifts from Subaru and said that little gestures of kindness like that go a long way in the hospital. The family has been overwhelmed with the amount of support and love they have received throughout this difficult journey.When Lilli's family is through with this battle, they intend on paying it forward to other families to the best of their ability.
---
#SubaruLovesToCare with LLS + Children's Hospital - Shannon B
In June 2017, Subaru of America and The Leukemia & Lymphoma Society (LLS) spread love, hope and warmth to cancer patients and their families in communities across the country. Customers visiting White Bear Subaru were given the chance to write personalized messages of hope to patients in their local community. Those care cards were then handed out alongside a donated blanket to provide comfort and warmth to patients being treated at Children's Hospitals & Clinics of Minnesota.One such patient was Saunder Strong. On August 10, 2015 Saunder was diagnosed with acute lymphoblastic leukemia (ALL) at the age of 12. ALL is the most common type of cancer in kids under 20, and pediatric patients like Saunder have to undergo three years of treatment. These treatment phases will take him all the way through his sophomore year of high school. Saunder says "The past year was painful and scary. Cancer made me and my life unrecognizable… it was life in isolation and my temporary new physical appearance was one I never got comfortable with. But these days I'm not feeling as wrecked and I'm enjoying the life of a teenager…!" Saunder and his family have chosen to give back by partnering with The Leukemia & Lymphoma Society's Man & Woman of the Year campaign to raise support and awareness for blood cancers. Saunder will be the 2018 Boy of the Year, and on June 22 he proudly accepted a blanket from White Bear Subaru alongside his care team on behalf of all patients at Children's MN.
---
great retailer, and sales person - vicki e
I was looking to buy a used Subaru, but the new Crosstrek caught my eye. After a test drive, I knew I needed it. Has surpassed my expectations on mileage and handling on snow and ice. Was also impressed with the people at White Bear Subaru. This is the fifth Subaru I have had, will never drive any other car.
---